Hosted Telephony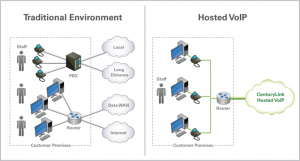 Acloud based system is a telephone system that has no physical control or switching equipment at the customer site. The only thing at the customer's site will be IP telephones that are conneted to the "Cloud" telephone system (usually via the Internet). The system or control equipment still exists, only now it will typically reside on a server in a datacenter.
Our hosted telephony system is ideally suited to small business, branch offices and mobile workers. The service is feature rich and has an emphasis on customer control and administration, allowing businesses to configure the system exactly to their requirements (even if these requirements frequently change).
With this versatility customers can manage their business more effectively and enhance customer interactions, at a price they can afford and without having to buy an expensive PBX. The service can either be provided with analogue or IP phones, depending on the customer"s preferences and size of offices. Customers vary from sole traders, independent travel agents and estate agents to large national businesses with distributed offices.
The advance features of the service also means small businesses can get big business features at a small business price.
So why should you do it?
Simplicity
Simple to use
Keep your existing numbers and handsets – even if you move premises anywhere in the world!
Eliminate hardware such as a telephone system and fax machine
Merge all your telecommunications infrastructure into one supplier and one bill
Simple to do business with
Fully managed service-talk to a person straight away, who's in the Netherlands!
Value
Never miss a call – backup service for all incoming calls
You're not tied to your number-it moves with you wherever you go
Receive your faxes and voicemails on email.
Use service anywhere, NL or globally.
Have as many (or few) users as you need!
Cost Savings
Nothing to pay to get started
No Maintenance fees
All inclusive fixed monthly rental cost
Unlimited free landline inter-company calls